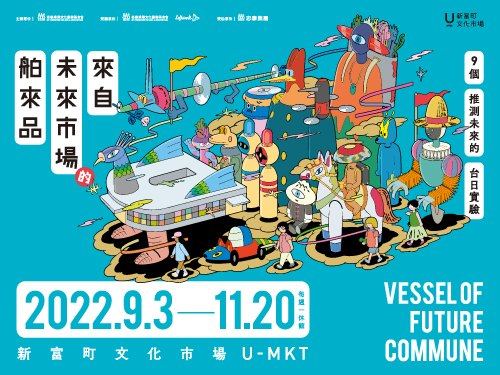 2022-09-03 10:00 through 2022-11-20 18:00
Illustration of the Exhibition
The Nine Creators and Their Small Enterprises to Change the Local Markets
The purpose of this year's exhibition is to "imagine how the traditional market in Taiwan will change in the future".
"Let's hold an exhibition in the traditional markets!" Who would not be moved by such an offer? I have visited Taiwan many times, and one of the things that completely enamored me was the market. The market, representing the local culture of Taiwan, changes its face from morning to night at a dizzying pace. At the same time, however, I came across the difficulty of providing some kind of answer to the future of the market that had already been explored and tested by the like-minded people of Taiwan.
The people in the market and JFAA should have fully discovered the charms of the market now. It would be illogical to talk about the attractiveness of a place based on a little research that has been done on the spur of the moment. Instead, we ask the question of "What is the best way to create new value for this place?" While thinking about these questions as we proceeded with the project, we realized that what is lacking in the market is not the discovery of attractions, but practitioners who can create new value.
Therefore, for this year's annual exhibition, we have gathered nine creators from both Japan and Taiwan to stay and work in the Wanhua area and the markets. As visitors from the future, they come with imported goods (in this case technology and knowledge). Japanese and Taiwanese creators will interact with each other, explore this shared space, and exhibit their small ideas for the market to forward into the future. We believe that by comparing the fragments of market potential we find at that time, we can get a glimpse of the market of the future. Please come and talk with our emissaries from the future and take a peek at the fragments that might be whole.
Daiki Tsutsumi, Curator
Theme & Creators
The exhibition will have three phases. The themes of each phase and its creators are as shown:
Phase 1:Gather/ Stay (9/3-9/25)
Taiwan:monouno (Jui-Chien Hsu, Karen Chiang)
Japan:Studio on_site (Hiroshi Ohno)/SAMPO Inc. (Riku Murakami)
Phase 2:Conversation/ Communication (9/27-10/23)
Taiwan:Zwhy (Gabriel Tsung, Chi Liu, Eddy Hsiao)/Pei-Wen Jin
Japan:TEAM BONUS TRACK (Hiroyuki Ono, Ayaka Sakuragi, Kohei Shishida)
Phase 3:Create/ Cooperate (10/25-11/20)
Taiwan:Mong Tong (Yu Hom, Jiun Chi Hung)/ebixcalligraphy (Peiling Tsai)
Japan:Misa Murata
Date
03 September 2022 – 20 November 2022
Venues
U-mkt (No. 70, Sanshui Street, Wanhua District, Taipei)
Exhibition Team
Exhibition Organizers|Aaron Y. L. Lee, Yi-Ling Hung, Tim Huang
Curator|Daiki Tsutsumi
Exhibition Managers|Mingjung Yu, Joy Hsieh, Mongtzu Kyo
Marketing and Promotion|Wayne Yang, Li-Hsuan Lin, Hui-Tzu Lin
Film Curator|HEM HEM MEDIA
Photography|Anpis Foto
Graphic Design|Baku Maeda
Visual Communication|www.ddd.pizza
Translator|Yachu Yang
--
Organizer|JUT Foundation for Arts and Architecture
Planning by|JUT Foundation for Arts and Architecture, Loftwork
Sponsor|Jut Group
Media Partners|MOT TIMES, Kuroshio Culture, cacao
Special Thanks|East Sanshui Street Market, Xinfu Market