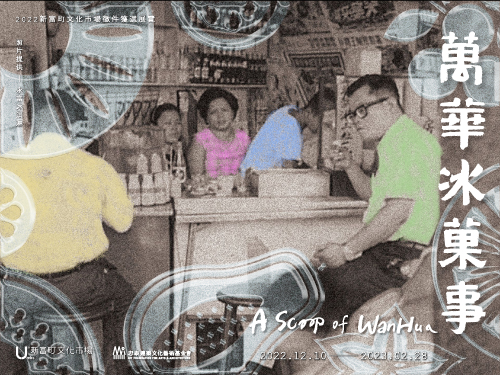 2022-12-10 10:00 through 2023-02-28 18:00
Illustration of the Exhibition
What looks like a simple bowl of shaved ice, covered with slow-cooked creamy toppings and freshly cut fruit, reflects the diligent lives of three generations of families in WanHua. The bowl holds the crystalised lives of people in WanHua over the past century.
Peculiar to Taiwan, ice shops are iconic social arenas that connect local memories, even though the flavours and the scenes of the shops may change over time. This exhibition begins with the childhood memory of Uncle Ji-Liang, whose parents established a small ice business at a time in the 1950s and 1960s when southern WanHua, where they earned their living, was still known as Ka-la̍h-á. In an era when entertainment was rare, people from the neighbourhood often gathered around the ice stall after work—not necessarily to buy ice but certainly for a chat. Such plain, simple scenes have passed with that time.
Most of the ice shops that today welcome hordes of customers all over WanHua were founded in an economically stagnant period. To provide for the family by selling ice, the older generation first had to hawk their wares from ice carts pushed along the street before they could afford a roten (street stall) at the local temple, under the pedestrian arcade or in front of people's houses, which only later would expand into a shop. The tireless efforts of generation after generation built up what we see today. Given how these ice shops have witnessed both the memories of families and the evolution of the district, A Scoop of WanHua conducted interviews with five local ice shops and shared their stories in our pilot workshops, through which we launched a series of discussions about local development, the memories of everyday lives and, of course, how shaved ice has touched our taste buds and hearts over time.
Shaved ice is best before it melts, and memories persist only until they fade. A Scoop of WanHua attempts to make enjoying shaved ice in WanHua an opportunity for people to meet up and discover again what we all share in our lives thanks to these shops. Whether at present or in the future, visiting ice shops can always be a great opportunity to get together with people in all seasons with new flavours and new social connections.
Date
10 December 2022 – 28 February 2023
Venues
U-mkt (No. 70, Sanshui Street, Wanhua District, Taipei)
Exhibition Team
Organizer|JUT Foundation for Arts and Architecture
Exhibition Organizer|Yi-Ling Hung
Curator|Sylvia C. Y. YANG
Exhibition Managers|Heng Yu
Exhibition Specialist|Hui-Tzu Lin
Production Team|Sylvia C. Y. YANG, I-Chieh LIU, Wei-Xiang LIN, Huai-Chih LIANG
Graphic Design|I-Chieh LIU, Chih-Wei TU
Pilot Workshop & Film Editing|Huai-Chih LIANG
Display Design|Wei-Xiang LIN
Marketing and Promotion|Li-Hsuan Lin, Hui-Tzu Lin, Wayne Yang
Photography|Hsiao-Ling CHANG
Translator|Nicole WANG
--
Site Coordinator|U-mkt
Special Thanks|Kevin SHIH, Ashlyn JOU, Ground Zero, Yu-Pin HUANG, pilot workshop participants