[The Selected Exhibition of U-mkt Open Call 2018] The City is Tapestry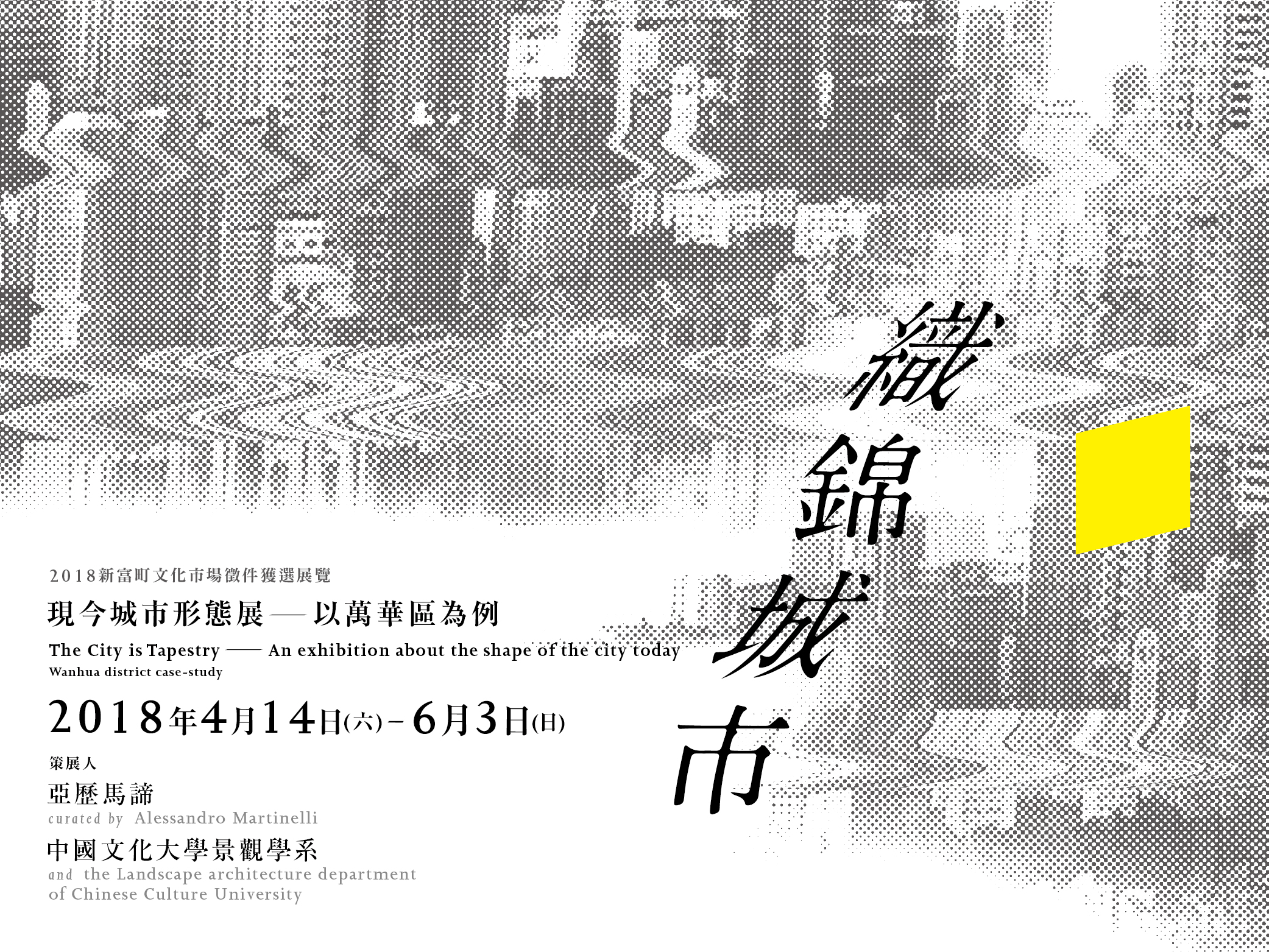 2018-04-14 10:00 through 2018-06-03 18:00

About the Exhibition
What is this space where we live? What is the city? Do we really know them? Do we have an idea of the problems offered to our space by the continuous construction and reconstruction of the city? No matter if these questions seem simple, their answer is difficult. Big part of the problem is given by the collective character of the city: we are many, but we live in one single space, and we have no choice but to share, build, and maintain this space by working together.
Because of this "together," for long time the city has been a sustainable way of living. Unfortunately, to keep it this way against the new challenges of sustainability, everyone must understand a bit more space and the city. We all need to become a bit geographers, or architects. Already now everyone is continuously challenged by the most common tool to manage space, i.e. the maps. Since the cities grow bigger and complex, everyone needs bigger and complex maps, up to the digital ones, but the maps also need more people in order to be produced.
With more and more people expected to cooperate, new questions arise: how many different interpretations of space we have? How difficult will be to coordinate all of us? How much we have to agree for to produce something meaningful? How much we can understand from the outcomes of collective mapping? In the end, the challenges offered by the representation of space are not so different from the challenges offered by the production of space. Funny enough, to make a map of the city is not so different from to make the city.
In the light of this, "The City is Tapestry" will showcase a giant textile map that represents a portion of Wanhua district, along with a series of interpretative materials and additional contributions. This map has been collectively produced by about one hundred students from the First year Design Studio of the Landscape architecture department, Chinese Culture University, Taipei. It brought them to investigate the space and the community of Wanhua, but also to express new points of view and challenge the limits of cooperation in mapping.
Main Curatorial Team
The main exhibition curator is Alessandro Martinelli, Italy, an architect and professor concerned with the contemporary urban condition. After collaborating with various institutions worldwide, such as Accademia di architettura in Mendrisio, the Berlage institute in Rotterdam, the Barcelona Institute of Architecture, the International Institute of Architecture in Vico Morcote, the Canadian Centre of Architecture in Montreal, today he is Assistant Professor of Landscape Architecture at the Chinese Culture University in Taipei, and works together with BIAS Architects on architectural and curatorial projects that mainly address the contemporary public space. The curatorial team is also composed by Monica Kuo, Chairman of Landscape architecture department, Chinese Culture University, Chen, Wei Bin, Professor of Urban Planning and Development Management, Chinese Culture University, Viviane Wang, Professor of Landscape architecture, Chinese Culture University, and Maria Lezhnina, Russia, and architect and awarded art photographer that is concerned with the experience of the contemporary landscape and has expertise in teaching architecture to children.
Exhibitors
Alessandro Martinelli, Italy, the Landscape architecture department of Chinese Culture University, Taiwan; (photographic contribution) Maria Lezhnina, Russia, Eden Lai, Taiwan, Adriano Maccone, Italy; (video contribution) dA Vision Design, Taiwan; (book design) Pam Virada B., Thailand; (story writing contribution) Lee Yenyi, Taiwan.
Date
14 April – 3 June 2018
Venues
U-mkt
Exhibition Credits
Organized by the Chinese Culture University
Co-organized by Jut Foundation for Arts and Architecture
Supported by BIAS Architects and Group G
Sponsored by Samsung
Free admission